Best Photos Of Year 2009
Share
The year 2009 is coming to an end. Lots of events took place in this year. 2009 Like elections, solar eclipse of the decade and the break out of H1N1 disease. A lot of natural disasters and accidents took place in this year. Each of these photos became the international news and many created history in the world… lets check out few of this photos after the jump …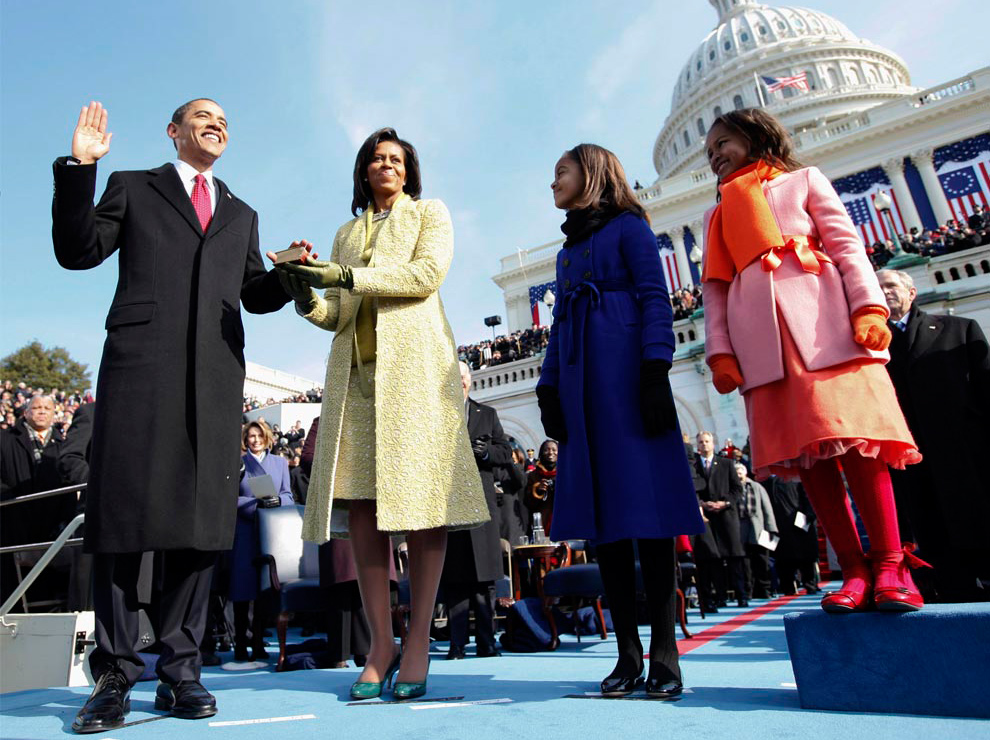 Barack Obama as the 44th U.S. president swears on the Bible, which holds his wife, Michelle Obama, at the Capitol on Jan. 20, 2009 in Washington, DC. Nearby are their daughters – Malia and Sasha Obama. (Chuck Kennedy-Pool/Getty Images)
74-year-old Verti Hodge crying Boulevard Martin Luther King January 20, 2009 during the inauguration of President Barack Obama, who at that time speech. Barack Obama became the first black U.S. president. (AP Photo/Houston Chronicle, Mayra Beltran)
A flock of common cranes gathered at dawn at the lake in Brandenburg near Berlin, September 26, 2009.  From September to November, tens of thousands of cranes stop in the rural areas of the capital of Germany during the winter migration from Scandinavia and Eastern Europe to Spain. (REUTERS/Thomas Krumenacker)
Soldiers of the First Battalion, 26th Infantry, U.S. troops occupied the defensive positions on the basis of Restrepo, after they shot at militants organization of the Taliban in Korengal Valley of Kunar province of Afghanistan May 11, 2009. Soldier Zachary Boyd of Fort Worth, Texas, (left in his underwear with the words "I love New York") ran out of the sleeping tents to help his comrades. The right of soldiers Cecil Montgomery Maney, Los Angeles, and Jordan Custer of Spokane, Washington (center). (AP Photo/David Guttenfelder)
Passengers waiting for rescue on the wings of the plane «Airbus 320" company US Airways, which landed safely in the cold waters of the Hudson River in New York after a flock of birds put out of action two of its engine January 15, 2009. (AP Photo/Steven Day, File)
Schoolgirl made vaccine against the virus of influenza H1N1 in a hospital in Suining, Sichuan Province on Nov. 11, 2009. (REUTERS/Stringer)
Iranian police tear gas splashes in the face of a supporter of defeated presidential election candidate Worldwide Hossein Mousavi during the demonstrations in Iran June 13, 2009. (OLIVIER LABAN-MATTEI/AFP/Getty Images)
In the photo, cut out videos from YouTube, visible woman named Ned Agha-Soltan, which lies on the ground after she was shot in the chest in Tehran June 20, 2009. Iranians in social networks declared mourning in memory of "Nede" – a girl who died in the same Saturday. (REUTERS/YouTube)
The fishermen rowing in a boat on the Chaohu Lake in Hefei, China's Anhui Province, where the waters "blossomed", ie filled with overgrown unicellular algae, 19 June 2009. China has invested 51 billion yuan (7.4 billion dollars) in the creation of 2,712 projects whose purpose is the purification of eight rivers and lakes in 2009. (REUTERS/Jianan Yu)
Moon came between the Sun and Earth during a total solar eclipse, which could be observed in Changsha, Hunan Province, China, July 22, 2009. (REUTERS/Stringer)
The girl, who has lost homes because of the huge waves caused by cyclone Isla, stands in front of his temporary haven on the dam the river in Sathire in southwestern Bangladesh June 2, 2009. (REUTERS/Andrew Biraj)
Cone moisture around the rocket Ares IX during its launch on Wednesday October 28, 2009 at suborbital test flight from the Kennedy Space Center in Cape Canaveral, Florida. (AP Photo/Chris O'Meara)
Assault police squad is trying to keep fans of the national soccer team in Mozambique after the qualifying match between their team and a team from Kenya to the FIFA World Cup 2010 6 September 2009. (REUTERS/Grant Lee Neuenburg)
Pitcher Team «Chicago White Sox» Scott Laynbrink serves during a match against a team «Chicago Cubs» in Las Vegas March 5, 2009. (AP Photo/Isaac Brekken, File)
A young man walking a dog on a hill not far from Sydney Observatory September 23, 2009, when the largest city in Australia was gripped by a strange cover of red dust. Cars and buildings in Sydney were orange, when a strong wind brought the dust in the city, preventing residents and forcing the children and the elderly remain at home. (GREG WOOD/AFP/Getty Images)
Claire Williams (right) and Cory Giroks kiss after their wedding ceremony at midnight in South Burlington, Vermont, September 1, 2009 – the first day of entry into force of the law on marriages between same-sex citizens enrolled in Vermont. (AP Photo/Karen Pike)
Brazilian Formula 1 pilot Felipe Massa of team «Scuderia Ferrari» pull out of the car, after his head hit a piece of the body of another punishment, during the Preliminary round of the track «Hungaroring» in Mogiorod nedalko from Budapest, 25 July 2009. Weight was taken to hospital and underwent surgery. (TAMAS KOVACS/AFP/Getty Images)
French aerobatic team "Cartouche Dore" performs Room near Aix-en-Provence, southern France. (JOEL SAGET/AFP/Getty Images)
The sun shines on the skin of a hippopotamus in his cage at the zoo in Berlin on Friday, April 3, 2009. (AP Photo/Franka Bruns)
Photography, Emilio Morenatti photographed himself, while his wheelchair taken to the Medical Center of the University of Maryland, to transport to a rehabilitation center in Baltimore on Aug. 25, 2009.  Morenatti, who amputated his left leg after a bomb explosion in Afghanistan, was transferred to a rehabilitation center in Baltimore, where he will pick up limbs. (AP Photo/Enric Marti)
Rescuer, holding year-old child, trying to close the window to suicide is not jumping from the eighth floor apartment in Chengdu, Sichuan Province, July 7, 2009. The rescuers managed to distract the man, and one of them saved the girl. The man, who was under the influence of drugs, was arrested and placed under investigation. (REUTERS/China Daily)
Blood and bullet holes on the door of the car after the unidentified man was killed in Tijuana, northern Mexico, August 19, 2009. (AP Photo/Guillermo Arias)
Demonstrators fled down the street in London during the protest, matched with the Summit Big Twenties April 1, 2009.  Demonstrators entered the fight with police and smashed windows of banks in London's financial center on Wednesday before the meeting «G20» as a protest against the system, which according to them, robbing the poor to the rich. (REUTERS/Dylan Martinez)
Australian surfer Mark Visser saddled the 11-meter wave in Cau bombs in the vicinity of the West Australian city Greystaun 280 km south of Perth, 28 September 2009. The organizers of surfing competitions stated that Visser caught one of the biggest waves in Australia in 2009. (REUTERS/Calum Macauley/Handout)
Rows of bullets in a 7.62 mm, ready to use by novices Afghan National Police during a daily training in Kabul July 19, 2009. Attempts to train thousands of new military so that they joined the fight against militant organization Taliban. However, hindered by lack of training supervisors and high level of illiteracy among recruits. (AP Photo/Emilio Morenatti)
A woman shows her finger in ink after the elections at a polling station in Sonapure 50 km from Guwahati – the main city of north-eastern state of Assam, India, April 23, 2009. Millions of Indians, including Prime Minister Manmohan Singh, voted in the largest democratic election in the world. (REUTERS/Utpal Baruah)
Residents of the city Kaintal Rizal, east of Manila, are moving through wires or wade after floods caused by typhoon Ondoy, September 27, 2009. (REUTERS/Erik de Castro)
New Hampshire, awaits the 96-kilometer race at the sleigh in Fort Kent, Maine, February 28, 2009. (Yoon S. Byun/Globe Staff)
Church of Santa Maria Paganica, severely hit after the earthquake of April 7, 2009 in Abruzzo – the capital L'Akvily, Italy. (FILIPPO MONTEFORTE/AFP/Getty Images)
In this photo released June 8, 2009 the Brazilian Navy divers raised to the surface of a large part of the plane «Air France A330», Lost in the voyage over the Atlantic Ocean June 1, 2009. While in the ocean was found 17 bodies at the spot where the plane fell. (AFP / Getty Images)
A Pakistani boy from the valley of Swat, who lost at home, sleeping under a mosquito net at the tent in a refugee camp Jalozai near Peshawar, Pakistan, May 26, 2009. (AP Photo/Emilio Morenatti)
Sailors People's Liberation Army marching on Tiananmen Square during the celebration of the 60 th anniversary of China's October 1, 2009 in Beijing.
The body of the leader of the Liberation Tigers of Tamil Eelam Prabhakaran Vellupillaya bear on a stretcher through the group oldat Sri Lanka in the lagoon near the town of Nantikadal Mullaittivu in northern Sri Lanka, May 19, 2009. The warlord armies of Sri Lanka said that the corpse of the leader of the Tigers "was found on Tuesday, and on television in Sri Lanka showed video of his body from the demolished head.
Missiles fired by Israeli aircraft hit the target in the northern Gaza Strip. The picture was taken with the Israeli side of the border on Jan. 1, 2009.
Mentally ill patient on behalf Totok reacts to shower in a charity house Galuh in East Bekasi on the outskirts of Jakarta, Indonesia, October 23, 2009. Charity House Galuh sheltered more than 285 indigent mentally ill patients since its inception in 1982 Gendy Mulatipom.
The newly constructed fence at the border between the U.S. and Mexico. Picture taken at dawn on March 14, 2009, the interval between the city of Yuma, Arizona, and Calexico, California. The new fence height of 15 feet (4.5 meters) is installed on top of sand dunes, so that it could lift and move, when migrating dunes begin to fill it. It was established almost seven miles (11 km) a fence at a cost of $ 6 million per mile.
Military and legal medical expert examine the body of man killed at a nightclub in the border city of Ciudad Juarez, Mexico, August 31, 2009.  Man handcuffs clipped to the fence and shot him several times. Local media reported that the shooting narkokiller.  The killers also left at the crime scene a warning note.
Type Sarychev volcano on the Kuril Islands in the early stages of the eruption of 12 June 2009. Picture taken from the International Space Station. (AFP/Getty Images/NASA)
16-month Aubrey Melton reaches for his father, Senior Sergeant Josh Melton at his funeral, sitting at the hands of her mother Larissa before the memorial service June 27, 2009 in Germantaune, Illinois.  Melton, who served in Afghanistan as part of the National Guard of Illinois, died in Kandahar when an improvised explosive device on June 19.
Children run away from the "bull by the Fire" – a man in a metal suit, bull, charged with fireworks, the festival of San Fermin in Pamplona, Spain, July 12, 2009.
Stuff From Other Blogs